Following the COVID-19 pandemic and increasing business restrictions, I created a community togetherness campaign to encourage community support and interaction during COVID-19. The campaign took place mainly on social media with a new Facebook group; Cowork BG. This served as a way for Ment Cowork to continue to remain connected with the public and provide a place for people to "cowork" virtually.
Live videos, surveys, daily discussions, and work for home tips took place in this "virtual community" as well as virtual meet-ups and giveaways.

Created social media calendar for Ment Cowork each month with planned content and images to be used on multiple platforms. I also created a new, more efficient calendar format to be used by company and interns in the future. I also used Ment Cowork's business Hootsuite account to schedule content after approved.
Press Release
I created a press release to advertise for our February community partner; Slow As Folk's art exhibit. The exhibit was held all month long at Ment as part of our partnership efforts to feature local art at Ment during February. The press release was sent to multiple contacts in the community.
Blog Work
Created weekly blogs for Ment's website with content relevant to monthly themes, partners, events, trends, etc. ​​​​​​​
** Wrote all blogs provided on the website from 12/15/2019 to 5/11/2020.
Created graphics to be used for social media posts and social cover images, advertising for events, print content, press releases, and more. Created other content including promotional flyers and general information to be distributed to members and potential customers.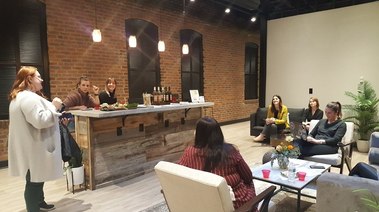 2020 Ambassador Event
Assisted with creating and hosting Ment's second annual ambassador event. The event included invited local community members and our five chosen "first round" ambassadors to take part in meeting one another, brainstorming and learning what will be expected of them.
My 3:59 Coffee Hour
Curated a coffee hour with our January community partner Dan Klein; motivational speaker and author of My 3:59 and gained Ment additional exposure to community members not already familiar with Ment Cowork. The event invited Ment members and all members of Klein's movement and private group and gained interests from multiple attendees. This eventually led to a membership gain.
Slow as Folk Art Exhibit
Curated an art exhibit at Ment with our February community partner. This month long exhibit provided exposure for our partner, showed Ment's support for local art and allowed us to in turn, receive further exposure from our partner.